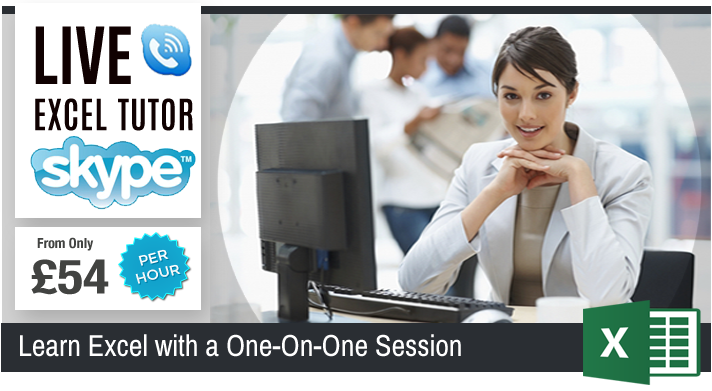 Learn faster by connecting Live with our one-on-one dedicated online Excel tutor
Online Excel classes are available via Skype, which offers you
a great advantage for a number of Reasons:
1. Learn Excel from the Comfort of your own office or Home.
2. Ideal if you need to brush up certain areas of Excel as you can interact one-on-one with the Tutor Live.
3. Achieve fast results as training can be setup and delivered within Hours.
4. Focus on your own Personal Goals and Learn only what you need to learn.
5. Learn whenever you like as Schedules are set to your needs.
The private online teacher will guide you through the class in a very
interactive way using video, voice and texting live via Skype.
Learn Excel online from virtually anywhere in the world, our courses
a live, out tutors speak english and can

SET UP YOUR VIRTUAL CLASSROOM WITH SKYPE :
All you need is :
1.  Access to the Internet and a device that can run Skype.
2. A headset with a microphone that is Skype compatible.
3. Download Skype and create a Free Account.
4. Book an online Live Tutor Session ( See Hourly rates below )
5. Agree a time for the Live Session.
Flexibility is not only about time, it is also about the location. Take classes from
wherever you are Located.
Looking to learn specific Topics within Excel?
No Problems, Outline your requirements to us and we will cost and Develop a Course
specific to your individual Needs.
Contact Us/ Get a Free Consultation / Booking Information
If you would like to avail of a free consultation to evaluate your individual
needs then we offer a Free Consultation whereby we will call you to discuss
your individual needs and formulate and cost a Live Training Session plan
that can be delivered at a time of your choosing.
Free Consultation Form
Apply for a Free Consultation by clicking here